Topped Toys Gape Keeper Butt Plug 93 Forge Red
Premium silicone anal plug 18 x 7.6 cm
Anal plug ideal for all-day wear. Made of super soft and flexible platinum silicone. Marbled red-grey colour. Dimensions (approx.): total length 18 cm, insertable length 15.2 cm, diameter 7.6 cm. Detailed description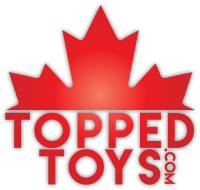 Worldwide
Express Delivery
Description
The Gape Keeper series of anal plugs from Topped Toys is specially designed for long-term wear. The head of these plugs has an elongated shape to relieve pressure points that can cause numbness or discomfort with prolonged wear. The slight taper towards the neck prevents the plug from being pulled in too quickly and, in turn, allows your body to find a comfortable position for it. Incredibly soft and flexible platinum silicone conforms to your body and movements for unparalleled comfort and full stretch. The plugs are available in various sizes, so you can gradually work your way up to larger pieces. Can you handle them all?
Gape Keeper 93
The 93 was designed to bridge the gap between the 85 and 100 sizes. Compared to the previous size 85, this model has increased in length and girth, but without the deeper penetration of the 100.
After inserting this plug made of super soft silicone, you'll instantly understand why we call it an all-day plug. The pliable material fills you nicely, and the contoured base hides easily under jeans. Choose the right size and watch closely to see if anyone notices.
If you want, you can put the plug in backwards and the base will help with the prolapse.
Study the measurements carefully in advance and make sure your eyes are not bigger than your hole!
Dimensions (Official)
Max. circumference: 23.6 cm
Max. diameter: 7.6 cm
Neck circumference: 15.7 cm
Neck diameter: 5.1 cm
Insertable length: 15.2 cm
Colour Variations
Topped Toys are available in two colour variations – blue (Blue Steel) and marbled red (Forge Red). The marbled finish is created by hand mixing the colours to create unique colour effects and make each toy an original masterpiece.
Use only with water-based or oil-based lubes. Clean the toy with warm water and soap, or put it in the dishwasher. Store apart from other toys.
Reviews
Parameters
| | |
| --- | --- |
| Brand | Topped Toys |
| Colour | Red |
| Experience level (1–10) 😈 | 7 |
| Material | Silicone |
| Original name | Topped Toys Gape Keeper 93 Forge Red |
| Recommended lubes | Water-based |
| Size – circumference max. (cm) | 23.6 |
| Size – diameter max. (cm) | 7.6 |
| Size – length insertable (cm) | 15.2 |
| Size – length total (cm) | 18 |
| Vibrating | No |
| Weight (g) | 606 |
We know the products we sell. Do you need help?
Chat with us from Monday to Saturday 9:00 to 19:00 (CET) or leave a message anytime.
Start Chat
Topped Toys
Top for your anal! It doesn't matter if you are a beginner or experienced, Topped Toys definitely have the right stuff for you! Anal toys made from super-soft platinum silicone are the most comfortable and flexible. Their range from the smallest to XXL sizes has gathered thousands of fans, who appreciate huge variety, affordability and, most importantly, the possibility to stay with one brand while increasing the size.
Canadian brand Topped Toys was founded in 2019 by three friends who wanted to come up with a new kind of plugs for anal training and also give beginners the best quality for their first purchase. Topped Toys' wide selection ensures the best experience for everybody. So… are you going to conquer them all?
All Products from Topped Toys