Topped Toys Hilt Dildo 135 Obsidian
Premium silicone dildo 28 x 10.9 cm
Anal dildo with pronounced bulge and curved tip. Special HD Finish, which makes the plug matte and slightly textured, improving the adhesion of lubricant and multiplying the experience of each movement of the toy. Made of super soft and flexible platinum silicone. Black colour (Obsidian). Dimensions (approx.): total length 28 cm, insertable length 24.1 cm, diameter 10.9 cm. Detailed description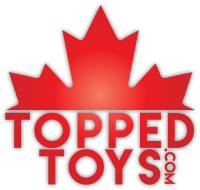 Worldwide
Express Delivery
Description
The Hilt series from Topped Toys comes with challenges that will test your hole's abilities in width and depth. Don't be fooled by the gentle fucking at the beginning as the top of the dildo sinks into you. Once you get over the bulge, you'll quickly feel that your senses can't keep up with processing all the sensations from penetrating the other sphincter and stretching your hole at the same time.
The top of the dildo is formed by a contoured back that orients the toy in your anus towards the front or back – you can choose the direction that the curved tip will stimulate you the most. Behind it is a distinctive nub, which you'll especially appreciate as it makes its way into you. You will also appreciate the elongated shape of the dildo and the full arch that presses directly against the prostate. You will love riding this dildo, but it's far from over.
HD Finish
The matte, very softly textured finish that gives more motion feel and grabs onto lube, making sure it gets you slicked up as deep as the toy. HD Finish will add a new level of intensity to your play as it stimulates your lips sliding over the surface, making you aware of every movement. If you're like us, you'll be transfixed with pleasure as you slide up and down this shaft.
Hilt 135
The Hilt 135 dildo is a toy that will torture you in a good way – a curved tip, a bulge in the middle, inverted shapes and HD texture that deepens the sensation of each and every centimetre.
Study the measurements carefully in advance and make sure your eyes are not bigger than your hole!
Dimensions (Official)
Knot circumference: 34.3 cm
Knot diameter: 10.9 cm
Head circumference: 21.6 cm
Head diameter: 6.9 cm
Shaft circumference: 24.8 cm
Shaft diameter: 7.9 cm
Neck circumference: 21.6 cm
Neck diameter: 6.9 cm
Insertable length: 24.1 cm
Use only with water-based or oil-based lubes. Clean the toy with warm water and soap, or put it in the dishwasher. Store apart from other toys.
Reviews
Parameters
| | |
| --- | --- |
| Brand | Topped Toys |
| Colour | Black |
| Experience level (1–10) 😈 | 10 |
| Material | Silicone |
| Original name | Topped Toys Hilt 135 Obsidian |
| Recommended lubes | Water-based |
| Size – circumference max. (cm) | 34.3 |
| Size – diameter max. (cm) | 10.9 |
| Size – length insertable (cm) | 24.1 |
| Size – length total (cm) | 28 |
| Vibrating | No |
| Weight (g) | 1566 |

We know the products we sell. Do you need help?
Chat with us from Monday to Saturday 9:00 to 19:00 (CET) or leave a message anytime.
Start Chat
Topped Toys
Top for your anal! It doesn't matter if you are a beginner or experienced, Topped Toys definitely have the right stuff for you! Anal toys made from super-soft platinum silicone are the most comfortable and flexible. Their range from the smallest to XXL sizes has gathered thousands of fans, who appreciate huge variety, affordability and, most importantly, the possibility to stay with one brand while increasing the size.
Canadian brand Topped Toys was founded in 2019 by three friends who wanted to come up with a new kind of plugs for anal training and also give beginners the best quality for their first purchase. Topped Toys' wide selection ensures the best experience for everybody. So… are you going to conquer them all?
All Products from Topped Toys