Topped Toys Cetos Dildo 110 Forge Red
Premium silicone dildo 27 x 8.9 cm
Softly curved anal dildo with a ribbed texture. Made of super soft and flexible platinum silicone. Marbled red-grey colour. Dimensions (approx.): total length 27 cm, insertable length 25.4 cm, diameter 8.9 cm. Detailed description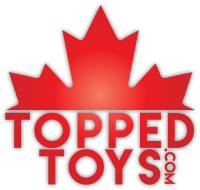 Worldwide
Express Delivery
Description
Don't underestimate deep destruction with the Cetos dildo – a powerful hole spreader designed to tease both your rings and permanently change them forever. This rounded tentacle will tear its way into you without mercy, spreading your outer and inner rings wide around its impressively ribbed and extra-wide body.
Thanks to its bulkiness, you can put Cetos on the floor without having to worry about its stability. The only things you'll have to worry about are your trembling legs and your gaping hole wide open once he's done with you.
After the Cetos sinks into you, it won't give you a moment to breathe as its sophisticated shape conquers both sphincters almost simultaneously. Experience raw destruction of your hole that is as addictive as it is punishing. Plus, the textured part evokes the same sensations as the edges of a human fist – making this toy even more mind-blowing. Simply let the weight of your body take Cetos into the depths for maximum stretching of your 1st sphincter, while the textured part will mercilessly massage and stretch your inner ring.
This toy will transform your innocent ass into a hungry gaping hole. Are you brave enough for the metamorphosis Cetos offers?
Cetos 110
The taper of its textured head allows it to easily slip into a second sphincter and gradually expand. Once you've mastered it all, it will keep your hole open around its massive body. The asymmetrical shape of the dildo allows you to rotate the toy to change direction for completely differently targeted stimulation, perfect for training your hole for all toy shapes and sizes you'll gradually work up to.
Cetos is a depth spreader that will tantalize your bowels with pleasure. Like its namesake, the mythological sea monster, this rounded tentacle slips into your hole with such ease that you won't even notice you've reached the point of no return. Reach the widest point to get the whole structured part inside you, then let each thrust open your second ring a little more. Cetos is a toy perfect for deep and long uncompromising penetration. There is also only a slight narrowing behind the widest point, so don't count on feeling any relief during its insertion.
Dimensions (Official)
Max. circumference: 27.9 cm
Max. diameter: 8.9 cm
Neck circumference: 25.1 cm
Neck diameter: 8 cm
Insertable length: 25.4 cm
Colour Variations
Topped Toys are available in two colour variations – blue (Blue Steel) and marbled red (Forge Red). The marbled finish is created by hand mixing the colours to create unique colour effects and make each toy an original masterpiece.
Use only with water-based or oil-based lubes. Clean the toy with warm water and soap, or put it in the dishwasher. Store apart from other toys.
Reviews
Parameters
| | |
| --- | --- |
| Brand | Topped Toys |
| Colour | Red |
| Experience level (1–10) 😈 | 8 |
| Material | Silicone |
| Original name | Topped Toys Cetos 110 Forge Red |
| Recommended lubes | Water-based |
| Size – circumference max. (cm) | 27.9 |
| Size – diameter max. (cm) | 8.9 |
| Size – length insertable (cm) | 25.4 |
| Size – length total (cm) | 27 |
| Tags | Fantasy |
| Vibrating | No |
| Weight (g) | 1394 |

We know the products we sell. Do you need help?
Chat with us from Monday to Saturday 9:00 to 19:00 (CET) or leave a message anytime.
Start Chat
Topped Toys
Top for your anal! It doesn't matter if you are a beginner or experienced, Topped Toys definitely have the right stuff for you! Anal toys made from super-soft platinum silicone are the most comfortable and flexible. Their range from the smallest to XXL sizes has gathered thousands of fans, who appreciate huge variety, affordability and, most importantly, the possibility to stay with one brand while increasing the size.
Canadian brand Topped Toys was founded in 2019 by three friends who wanted to come up with a new kind of plugs for anal training and also give beginners the best quality for their first purchase. Topped Toys' wide selection ensures the best experience for everybody. So… are you going to conquer them all?
All Products from Topped Toys