Hankey's Toys Ray Diesel Dildo L/XL
Premium silicone dildo with Vac-U-Lock 31.2 x 5.4–7.6 cm
This lifecast dildo is as powerful and meaty as Ray Diesel himself! Made in the USA from the finest soft platinum silicone. Size L/XL, 75 % soft, brown colour, Vac-U-Lock compatible. Total length 31.2 cm, insertable length 24.5 cm, diameter 5.4–7.6 cm. Detailed description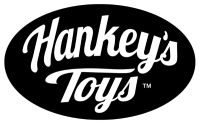 Worldwide
Express Delivery
Description
The Ray Diesel dildo is a giant. It is a direct cast of Ray Diesel's impressive cock, which you know very well from all your favourite films and clips! Instead of looking at the screen, you now have a chance to please yourself with the real deal. Crafted with Mr. Hankey's unique life-casting technique, the Ray Diesel dildo is super realistic to the smallest vein, from head to balls.
Specifications
Material: 100 % high-grade platinum silicone
Firmness: 75 % Soft
Colour: Deep Brown
Attachment hole: Vac-U-Lock – can be used with a wide range of Vac-U-Lock compatible accessories (strap-on harnesses, suction cups, handles, fucking machines and more)
Dimensions (approx.)
Total length: 31.2 cm
Insertable length: 24.5 cm
Diameter: 5.4–7.6 cm
Circumference near head (official, converted to cm): 17.8 cm
Circumference near middle (official, converted to cm): 21.6 cm
Circumference near base (official, converted to cm): 21.7 cm
Please pay attention to the dimensions carefully in advance and don't let your eyes get bigger than your hole!
Mr. Hankey's are said to be the best dildos on this planet. From incredibly realistic to fantasy dildos, from small to truly giant sizes. Sophisticated design of American Hankey's Toys goes hand in hand with the amazing material they are handmade from. The world's finest 100 % platinum silicone is beautifully soft to the touch and lifelike, 100 % skin safe and meets ISO 10993-10 standard. It is odourless and gives the toys high durability: Mr. Hankey's dildos will last you for years, do not melt when placed in contact with other silicone toys, and you can safely use them with silicone lubes. You can even put them in the microwave for two minutes to warm them to a comfortable temperature.
Compatible with water-based and silicone lubes. Wash in warm soapy water, air dry, then we recommend using a sex toy cleaner.
Reviews
Parameters
| | |
| --- | --- |
| Brand | Mr. Hankey's Toys |
| Colour | Brown |
| Experience level (1–10) 😈 | 7 |
| Features | Realistic, Vac-U-Lock compatible, Porn star replica |
| Material | Silicone |
| Original name | Mr. Hankey's Toys Ray Diesel LG/XL |
| Recommended lubes | Hybrid, Water-based, Silicone |
| Size – circumference max. (cm) | 21.7 |
| Size – diameter max. (cm) | 7.6 |
| Size – length insertable (cm) | 24.5 |
| Size – length total (cm) | 31.2 |
| Vibrating | No |
| Weight (g) | 1556 |
We know the products we sell. Do you need help?
Chat with us from Monday to Saturday 9:00 to 19:00 (CET) or leave a message anytime.
Start Chat