All Black Steroid ABS19 Gape, Set and Match Triple Anal Dildo
Black dildo 30 x 11.3–13 cm
Realistic triple anal dildo with testicles and veining. Made in Belgium from new, pleasantly soft, premium Flexxx material. Total length 30 cm, insertable length 23.5 cm and diameter 11.3–13 cm. Detailed description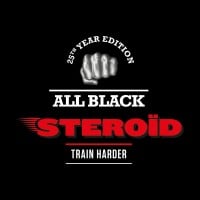 Worldwide
Express Delivery
Customers Who Bought This Also Bought
Description
Some sports are for one player, others are for two, and sometimes it takes a whole team to achieve a dream goal. Show the world that you are a team player and take part in a game called Gape, Set, and Match. This beautiful dildo is shaped like 3 massive dicks held together and you can bang fiercely against its massive base. With a length of 30 cm and a width of 13 cm, this dildo will give you a magnificently fulfilling experience.
Material
All Black Steroid toys are made of Flexxx material, which perfectly imitates human skin and brings realistic pleasure. It is pleasantly soft and flexible but at the same time firm. The Flexxx material does not contain unwanted chemical substances and meets strict European health and safety standards. In addition, it was developed to resist bacteria and prevent infections. Thanks to a special combination of TPE, medical-grade paraffin and silicone, Flexxx is odourless, non-porous and hydrophobic, so it does not trap bacteria.
Sex toys made of Flexxx material will last a very long time with proper care. Use them only with water-based lubricants, and clean regularly and thoroughly with water and mild soap. After washing, let them air dry completely, and then we recommend dusting the surface with a powder for sex toys. Store separately from other toys!
Dimensions (approx.)
Total length: 30 cm
Insertable length: 23.5 cm
Diameter: 11.3–13 cm
Reviews
Parameters
| | |
| --- | --- |
| Code | ABS19 |
| EAN | 5420044224692 |
| Brand | All Black Steroid |
| Colour | Black |
| Experience level (1–10) 😈 | 10 |
| Manufacturer | Belgo-Prism |
| Material | Flexxx |
| Original name | All Black Steroid ABS19 Gape, Set and Match |
| Recommended lubes | Water-based |
| Size – diameter max. (cm) | 13 |
| Size – length insertable (cm) | 23.5 |
| Size – length total (cm) | 30 |
| Vibrating | No |
| Weight (g) | 5252 |
Listed In
We know the products we sell. Do you need help?
Chat with us from Monday to Saturday 9:00 to 19:00 (CET) or leave a message anytime.
Start Chat